Corporate Profile
We provide high quality products
from Hokkaido to the world.
Greeting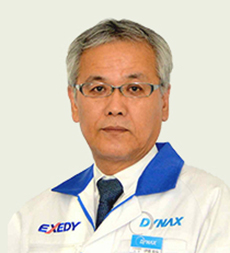 DYNAX is dispatching the newest technology from the northern land in Japan to all over the world.
We are the specialized company in the power train of automotive, construction and agricultural vehicles. We show the spirit of challenge based on the idea of "Already in the future" and research and develop, manufacture, and sell our products which make our customers satisfied. We create the value of "Unique to Dynax", which will move all the people.
We believe our company owes its prosperity to the strong and kind support of our customers, people working with us, and local citizens.
We would like to ask for your continued support and guidance.
Kazuhiro Ito
President
DYNAX Corporation
Corporate Policy
Management Policy (Wish)
1.From our customers,
"Reliance" to trust
"Confidence" to obtain competitive quality and price
"Expectation" to create the product which meets the customer's needs
2.From our employees,
"Satisfaction" to challenge their works
"Fulfillment" to give full play to their ability
3.From our local community,
"Thanks" to be one of the local citizens
We wish to be a company to realize the above thoughts.
This "wish" was announced in writing the thoughts of Mr. Masaki, the president in 1988.
Vision
Our Vision
We shall create the value of "Unique to Dynax", make our customers deeply impressed, and be "the Best company in the world".
Our Action Guidelines
Speedy decision and energetic action to carry through Challenge spirit to generate motivation
Challenge spirit to generate motivation
In 1973, Dynax was established as a young company in the industry and has been creating the original technology. We have been going through tough competition against the advanced companies in the world, we are now the first place in the share of domestic market and the second place in the global market.
We will be the best monodzukuri company in the world by our challenge spirit and speedy execution, the acquisition of the global business, and the chance of technological innovation.
We believe that the best company is the outcome of
the best product,
the highest quality,
and the best work in all our workplaces.